Stylish Utility Kilt is made up of 100% Cotton making it a comfortable Utility Kilt. It is available for both Men and Women. Two Flap pockets on either side of the kilt. One small pocket on the above of each topic. Five decorative button used on the front of this kilt. The pleats of this kilt are sewn depth inside for full swing.
Features of Stylish Maroon Kilt
Length : 24 inches
Sewn down deep pleats
Flap pockets with studs
Suitable for formal and casual wear
Machine washable
Studded front
100% pure cotton fabric
Rust free metal buckles
Huge cargo Pockets so you can carry more than just basics
Party kilt and it can be worn at parties too
Apart from parties and functions this also worn during hard and tough work.
Its rugged cotton fabric allows your to carry it during tough places
Design of Stylish Maroon Kilt
Now lets talk about the design of this traditional red utility kilt. The features are describes as below in detail
Front of Stylish Maroon Kilt
The front side of the kilt is plain but we added decorative buttons which fits completely on your body. It hangs completely straight on your body and does not get crumble while you wear it. There are also two decorated buttons used on the belt area on the edges of both sides.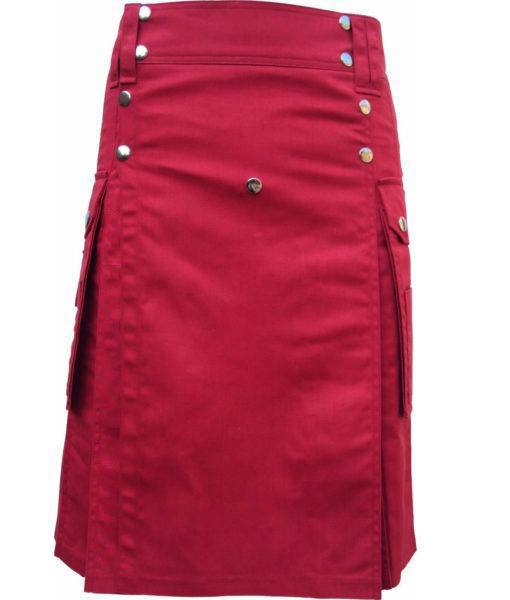 Pockets
There are two Flap pockets on either side of this kilt letting you store good amount of stuffs. There is also one small pocket on the flap pocket for storing tiny stuffs.
Pleats
Now lets talk about the pleats on this kilt. Standard depth of pleats which is 2.25 inches. Pleats are the heritage of traditional Scottish kilts. however, the dept of pleats are fully customizable as per the choice of our customer.
For any problem please Contact Us or email us at [email protected]